Pikkujoulumiitti pidettiin Oskarin kellarissa, mutta toki olin unohtanut kameran kotiin, joten kuvia ei tapahtumasta tällä kertaa ole. En taida edes muistaa oliko meille kynsiteemaa tai jos oli en ollut itse ainakaan osallistunut siihen. :D
We dined in Oskarin Kellari and but this time I had forgotten my camera home, so there is no pictures from the actual meet-up. :D Time flew by as usual and it was great to see other nail polish lovers.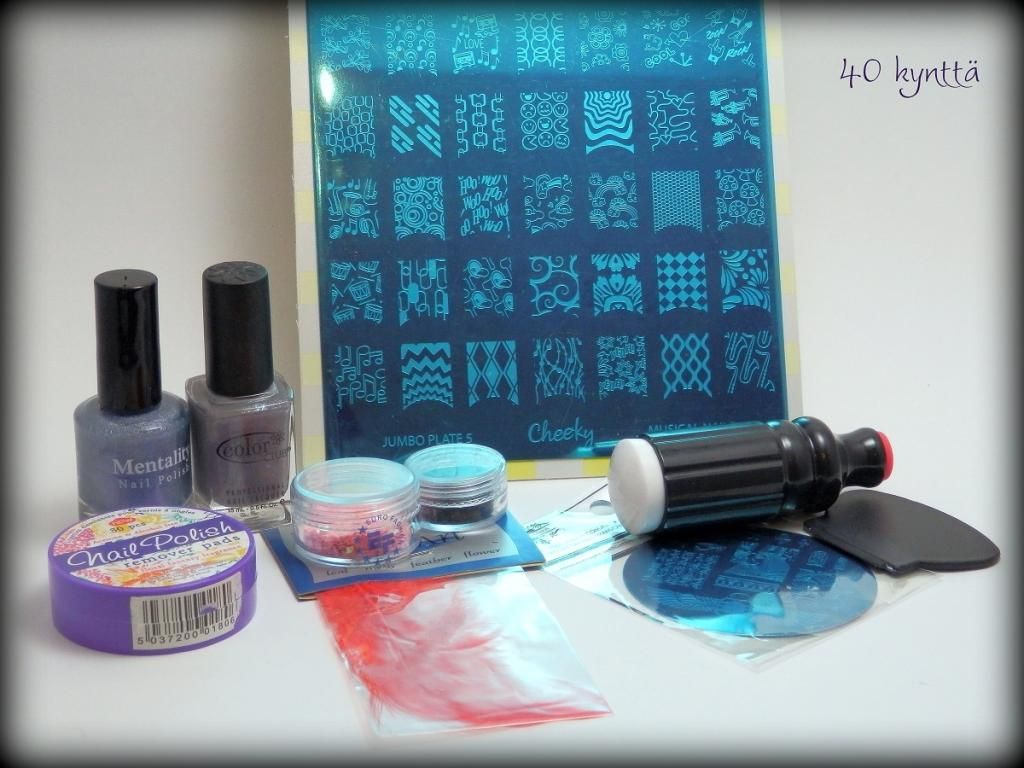 Koko saalis / The whole catch
Wild Orchid peitti kahdella kerroksella, mutta laitoin kolmannen siveltimen vetojen takia. Ihan nätti harmaa, mutta ei ehkä oma sävy.
Wild Orchid was fully opaque with two layers, but because of brush strokes I put a third. It is a beautiful grey polish but not really my cup of tea.
Testasin, miten kuviot toimivat sillä aiemmin en olekaan omistanut Cheekyn laattoja. Ei ollut lopputuloksessa mitään valittamista. Leiman alla on A-Englandin She Walks in Beayty.
I tested one picture and it worked really well. I stamped the swirls over A-England She Walks in Beauty.
Poistolaput olivat hyvin hellävaraisia, mutta jättivät sormet hyvin öljyisiksi. Meni pieni hetki että sen sai pestyä pois.
The remover pads worked really well. They are acetone and alcohol free so they are really gentle to your nails. However they left finger quite oily and it took me a while to wash it away.
Orgasmic vaati viisi kerrosta peittävyyteen. Lakka on kuitenkin upea, joten tämän voi antaa anteeksi.
Orgasmic needed 5 layers to be opaque, but it really was stunning on nails. It is a holo but I could not capture it. Damn the winter.
Testasin yhtä kuviota Zoyan Barin päälle.
I stamped one picture over Zoya Bar.
Kiitos kaikille miittiin osallistuneille ja jokaiselle mahtavalle sponsorille. :)
Thank you for all who attented the get together and especially big thanks to the sponsors.